Loki Software, Inc.
Overview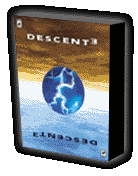 The latest installment of the legendary, pulse-pounding Descent series is coming to Linux! Descent3, the newest member of this classic 3D series, has an all-new game engine for improved rendering and gameplay. You'll thrill to the battles in the depths of distant planets in a frenzied, high-octane 360° extravaganza.
Descent3 features 10 new weapons, along with new air, surface and depth combat -- fight in the mines, in the skies or anywhere! You'll be confronted by new, wily computer AI, as your opponents react to your every move. And best of all, it's all for Linux!
Minimum System Requirements
Linux Kernel
2.2.x
Processor
Pentium-class processor 200MHz
Video
XFree86 version 3.3.x or newer; OpenGL®-compliant or Glide-compatible acceleration required
CD-ROM
4x CD-ROM drive
RAM
32 MB
Sound
OSS compatible sound card
Hard drive
500 MB uncompressed hard drive space
Other
glibc 2.1, keyboard, mouse; network and Internet play supported via TCP/IP

Products | Order | Support | Development | Press | News | About Loki
© 2000 Loki Software, Inc. | Contact Us | Webmaster
Loki is a registered trademark of Loki Software, Inc.
OpenGL is a registered trademark of Silicon Graphics, Inc.
Note: This site currently only fully supports Netscape Navigator 4.x or Internet Explorer 4.x or better. We will be adding support for other browsers shortly. We apologize for any inconvenience.