Loki Software, Inc.
Overview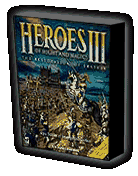 Ancient heroes and powerful mystics await you in your quest for glory! Now 3DO's new strategy and fantasy powerhouse Heroes of Might and Magic III has come to Linux!
Strap on your armor and get ready to lead the charge into battle. Organize your legions of sorcerers, knights and beasts to fight the common foe...and hopefully your name will pass into legend.
Thanks to Loki's programming prowess, we are proud to present Heroes of Might and Magic III for Linux! Keep your eye on this page for updates as they become available.
Heroes III News
10.28.00 We're offering a beta version (beta6) of the Heroes III Map Editor for Linux here. Please note that this beta is only available for Intel Pentium-compatible computers, and it requires either the full version of Heroes III or the demo. The demo will not play custom maps. Read the full readme here.
Minimum System Requirements
Linux Kernel
2.2.x
Processor
Pentium-class processor or PowerPC 200MHz
Video
Video card capable of 800x600 resolution; XFree86 version 3.2 or newer; 16-bit color
CD-ROM
4x CD-ROM drive
RAM
32 MB
Sound
/dev/dsp sound device for audio (Enlightenment Sound Daemon is also supported)
Hard disk
Minimum 150 MB free space

Products | Order | Resellers | Support | Development | Press | News | About Loki
© 2000 Loki Software, Inc. | Contact Us | Webmaster
Loki is a registered trademark of Loki Software, Inc.
Note: This site currently only fully supports Netscape Navigator 4.x or Internet Explorer 4.x or better. We will be adding support for other browsers shortly. We apologize for any inconvenience.