Loki Software, Inc.
Overview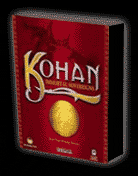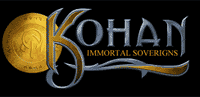 Life as an immortal isn't all that it's cracked up to be.
Things were a lot simpler before you picked up that beautiful amulet, studded with sparking gems, and placed it around your neck. One minute, you were digging through family heirlooms, and the next thing you know you're a Kohan immortal in Khaldun trying to piece together the story of your people's demise. Prepare to lead great armies to the edges of the world to fulfill your destiny -- solve the riddle of your race's destruction and return them to their former glory.
Easier said than done, of course. You'll need to use every bit of tactical wisdom you've got to succeed in Timegate Studios' epic real-time strategy game, Kohan: Immortal Sovereigns. Watch as your troops battle mystical creatures across lush landscapes, trudging through dense forests and exploring vast shorelines. Follow your heroes of age-old lore to victory with some of the most detailed graphics ever seen in this classic genre.
Kohan: Immortal Sovereigns is now shipping for Linux -- grab your copy today!
New! - Keep current on the progress of the game and other news on TimeGate Studios' special Kohan site at www.kohan.net.

Products | Order | Resellers | Support | Development | Press | News | About Loki
© 2000 Loki Software, Inc. | Contact Us | Webmaster
Loki is a registered trademark of Loki Software, Inc.
Note: This site currently only fully supports Netscape Navigator 4.x or Internet Explorer 4.x or better. We will be adding support for other browsers shortly. We apologize for any inconvenience.