Loki Software, Inc.
Overview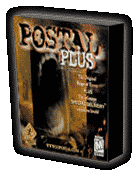 Banned in ten countries. Condemned in the US Senate. Under litigation by the United States Postal Service. Pulled from retail shelves. And now, it's available for Linux.
That's right, Postal Plus, the bold, infamous cult classic is now available for your favorite operating system! Combining the original game with the Special Delivery expansion pack, Postal Plus is your one-way ticket to mayhem.
Postal Plus for Linux is now shipping!
Minimum System Requirements
Linux Kernel
2.2.x and glibc-2.1
Processor
166 MHz Pentium processor recommended
Video
XFree86 3.3.5 or newer, 16bpp capable display
CD-ROM
8x CD-ROM drive (600 KB/s sustained transfer rate)
RAM
16 MB RAM minimum, 32 MB RAM recommended
Sound
16 bit Sound card ; OSS compatible

Products | Order | Resellers | Support | Development | Press | News | About Loki
© 2000 Loki Software, Inc. | Contact Us | Webmaster
Loki is a registered trademark of Loki Software, Inc.
Note: This site currently only fully supports Netscape Navigator 4.x or Internet Explorer 4.x or better. We will be adding support for other browsers shortly. We apologize for any inconvenience.