#begintable# #beginim##beginim_end#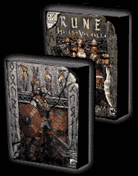 #endim# #begintitle#


Rune / HOV bundle #endtitle# #begintext#
In a climactic battle between the gods of heaven and the monsters who dwelt deep in the earth, it was assumed that Loki would fulfill his fate and take up sides against the Asgardians. Of course, Loki was the bane of fate, and he had other plans ...
Rune is Human Head's third-person perspective game of intense action and adventure steeped in a blend of Norse mythology and high fantasy. Players will have to use their brains as well as their massive brawn to survive as they explore the fully 3D game world fighting off fantastic creatures from both Norse legend with an array of swords, axes and magical devices.
PLUS Rune: Halls of Valhalla, the official multiplayer expansion pack for the highly acclaimed Rune, offers gamers the chance to go online and test their mettle against players from around the world.
Bundle Deal! #endtext# #beginform##formid##endform##pricetxt##endtd# #endtable#